Kaeli Hales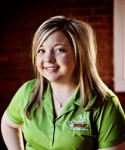 Email
President
Kaeli Hales is Vice President of Ag Specialist Insurance Services, Inc. in Hereford, Texas.
She began her career in insurance in January 2009. Fresh out of college, she purchased an insurance agency and started selling crop and livestock insurance. In 2011, along with her business partner, she incorporated her agency into Ag Specialist Insurance Services, Inc. and expanded to sell all lines of insurance. Since then the agency has continued to grow and thrive, in the West Texas market, serving clients in a variety of agricultural service lines.
In addition to insurance, she, along with her husband Reece, farm and ranch in Deaf Smith County, Texas, currently producing wheat, sorghum, and hybrid sorghum seed along with a cow and calf operation. They also own and operate a welding business in Vega, Texas. Being a fifth-generation agriculture producer, she has a working knowledge of the products she offers and can further assist her customers in their risk management strategy.
Kaeli earned a Bachelor's degree from West Texas A&M University in Agriculture Business and Economics.